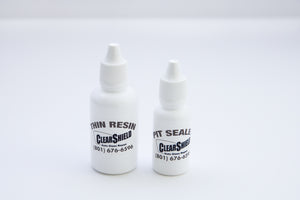 ClearShield Supplies Auto Glass Repair
Thin Resin, Pit Sealer, Thick Resin, Pit Filler, Chip Glue, Chip Adhesive, etc all refer to the same substance, resin. The difference is simply the level of thickness (viscosity). The thinner it is, the easier it is to inject into the windshield. The thicker it is, the stronger it holds.

The best resin for repairing a windshield chip or crack is not too thin, but not too thick. That's why our preferred resin is this bottle of Clearshield Thin Resin. It's thin, making it easy to inject into the break, but thick enough to restore the windshield to its previous strength (and a little bit more).

After you've injected the thin resin into the chip or crack, then a thicker resin (we call it pit sealer), can be used where the resin was injected to "seal" the repair.

We don't pretend that this resin is leaps and bounds better than all other resins. In fact, most resins are practically the same (many from the same supplier even), but we do know this resin works, and if your goal is to have an easy to inject resin that does the job at a quality level, then we know you'll be satisfied with this resin. It will perform around 200 repairs.

This resin bottle also comes with a dropper cap, making it easy to drip small amounts of resin into your bridge or injector. Dropper caps also keep the resin from spilling, saving you money and keeping your equipment clean.

For those who know what they are looking for, the viscosity of this resin is around 20 cps.
This bottle contains (30 ml/1 oz)